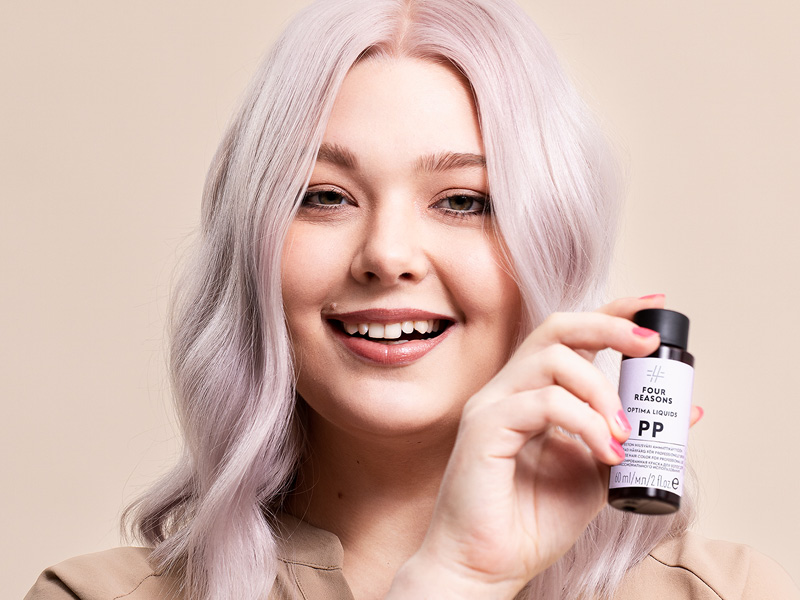 The hair color line of your dreams
Four Reasons Optima
What is your dream hair color like? We asked this question from a thousand hair stylists to create the perfect hair color line. We selected the most important wishes from the replies and developed our new color line, Four Reasons Optima, based on those wishes.
Optima blurs the line between permanent and semi-permanent colors – you can use the same versatile color line for all kinds of color work that is needed in the salon. The shades are beautifully translucent and exceptionally deep at the same time. Optima is perfume-free and 100 % vegan.
Four Reasons to love Optima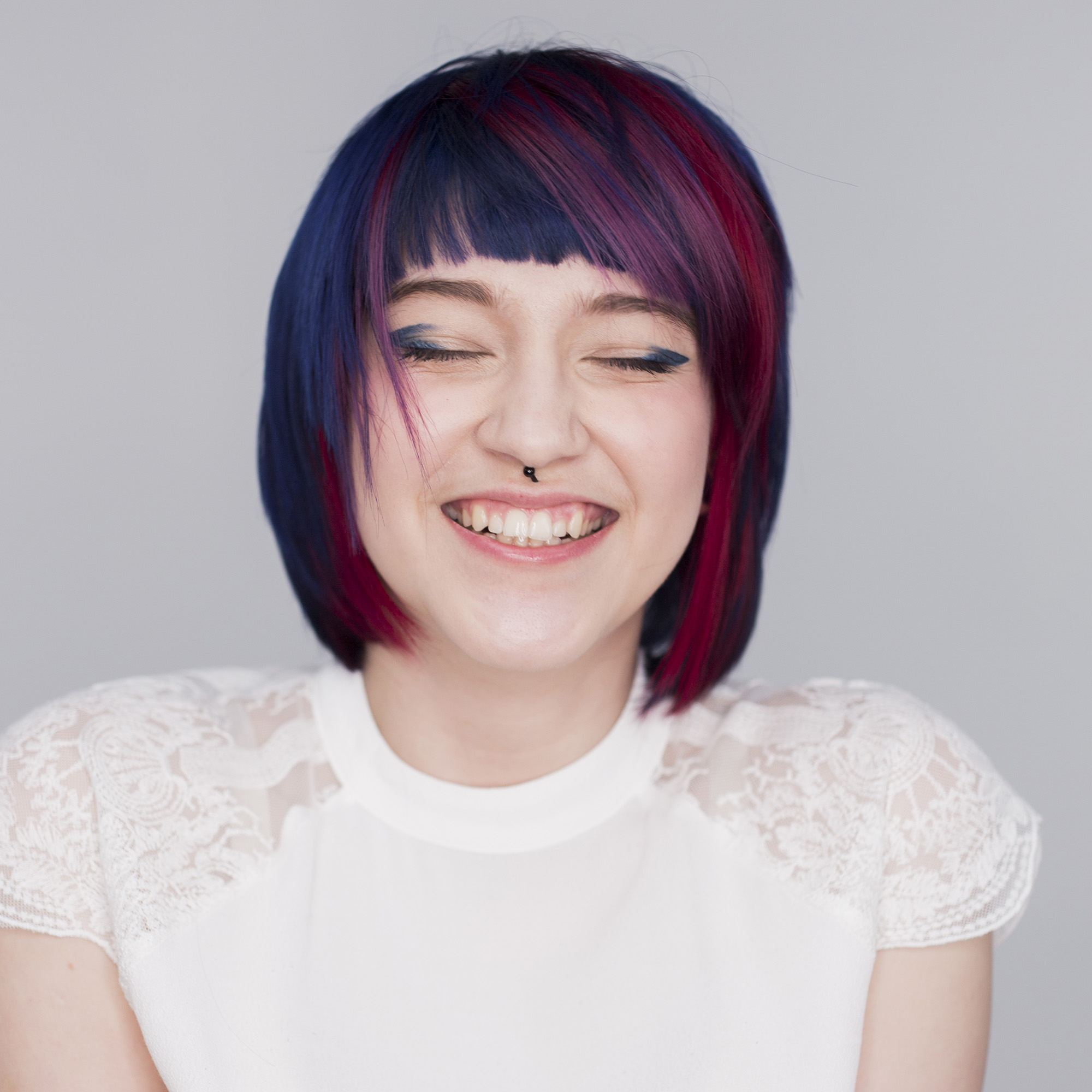 Repairs, hydrates and boosts shine
In the core of the hair color is our exclusive HydraRepair™ technology, which is based on the effects of plant-based keratin and collagen working together. The damage-repairing properties of phytokeratin and the intensively hydrating properties of phytocollagen support each other's functions within the HydraRepair™ technology, protecting, repairing and hydrating hair during the processing time.
In addition to the HydraRepair™ technology, Optima also features nourishing natural oils. Meadowfoam seed oil is derived from the Meadowfoam flower's seeds and contains 98 % of high-quality, well absorbing fatty acids that give hair a lustrous shine. Mono de Tahiti oil, the authentic, luxurious Monoi oil strengthens and nourishes fragile, dry hair effectively and deeply hydrates hair within its structure. Baobab oil is derived from the nutrient-rich seeds inside the nut of the Baobab tree and contains large quantities of A, D, E and F vitamins and helps in maintaining the ideal moisture balance.
Shade families with character
Cover shades combine powerful coverage and a brown tone. Cover shades have been divided into three groups: cool, neutral and warm. When used alone, these shades give a soft, beautiful tone while also covering grey hair.
Reflection shades are pre-mixed, natural tone combinations that create fantastic, muted brown and copper tones.
Intense shades are intensive and pure. They can be used alone to create a strong tone or mixed with other shades when you want to intensify the shade's character.
Mixer shades are the creative tools of the color line that can be used to change the chosen shades as wanted or to create strong, extremely vibrant colors.
Highlift shades achieve a powerful lightening effect and an effective neutralizing of yellow tones at the same time.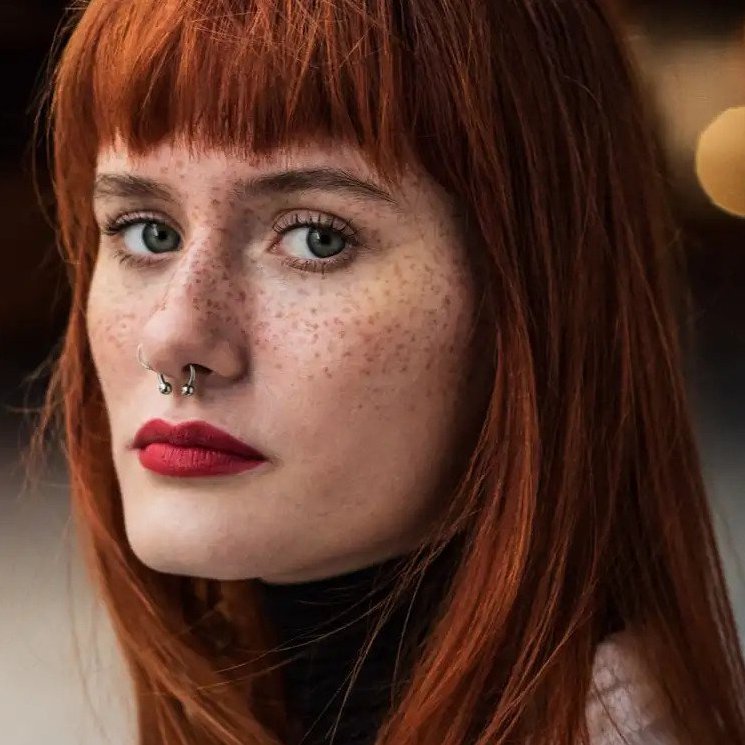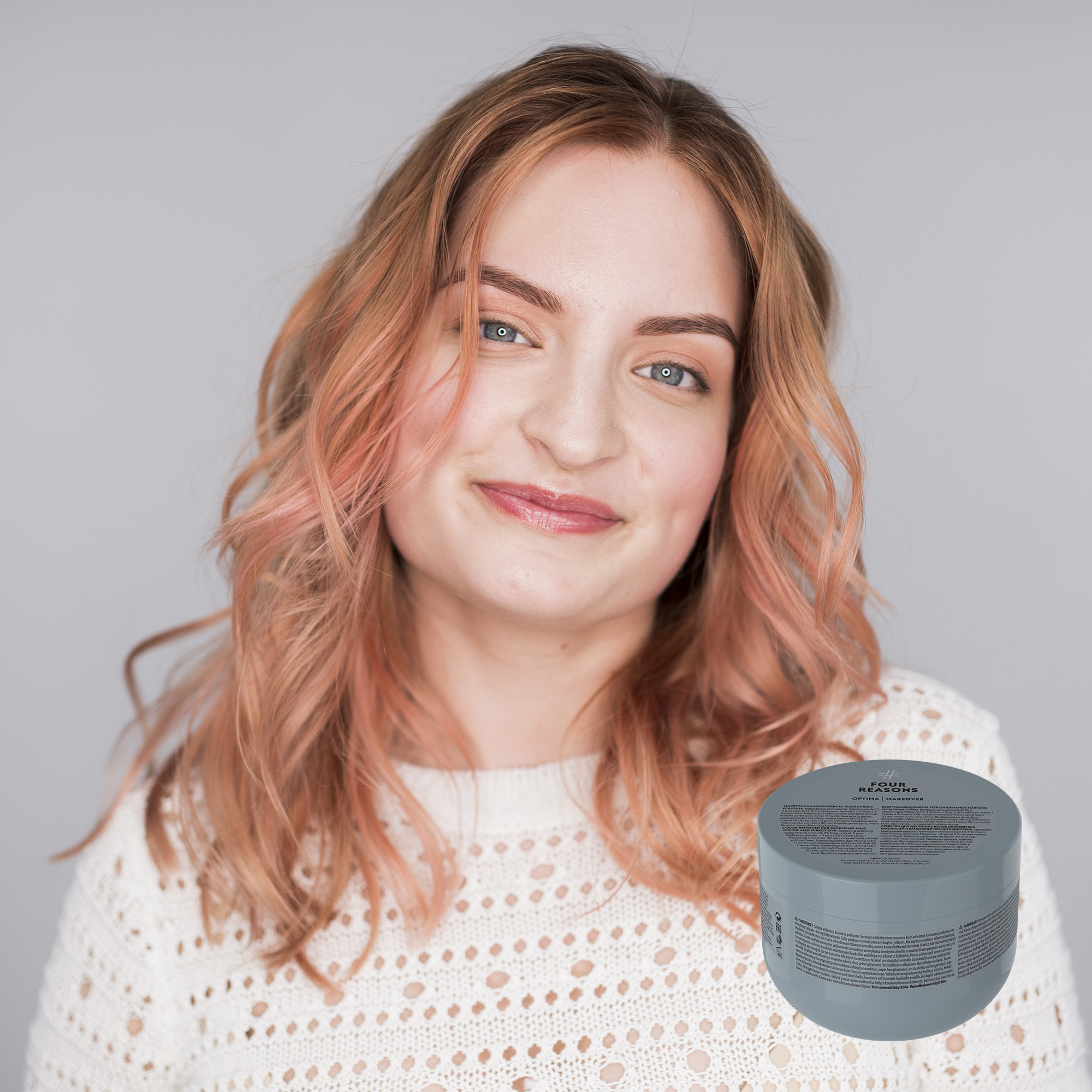 Makeover creates the ideal base
Four Reasons Optima Makeover creates the perfect base for the color pigments to work in an ideal way. It makes the coloring result look purer and tone-rich. Baobab oil, avocado oil and bamboo extract nourish hair and protect its structure during the processing time.
Use Four Reasons Optima Makeover to remove previous color before coloring the hair if:
the current, artificial shade is different from the desired shade
you want to achieve a clear tonal change, like from ash to gold or from cool red to copper
you want the result to be clearly lighter than the current color
the ends have several visible layers of different colors
you want to remove direct dye
Optima color line
Four Reasons Optima Perfume-free hair color for professional use.
Four Reasons Optima Cream Oxid 1,5 %, 3 %, 6 %, 9 %, 12 % Developer for Four Reasons Optima hair color. Perfume-free.
Four Reasons Optima Makeover Color remover for oxidizing color and direct dye. Includes perfume.
All products are 100% vegan.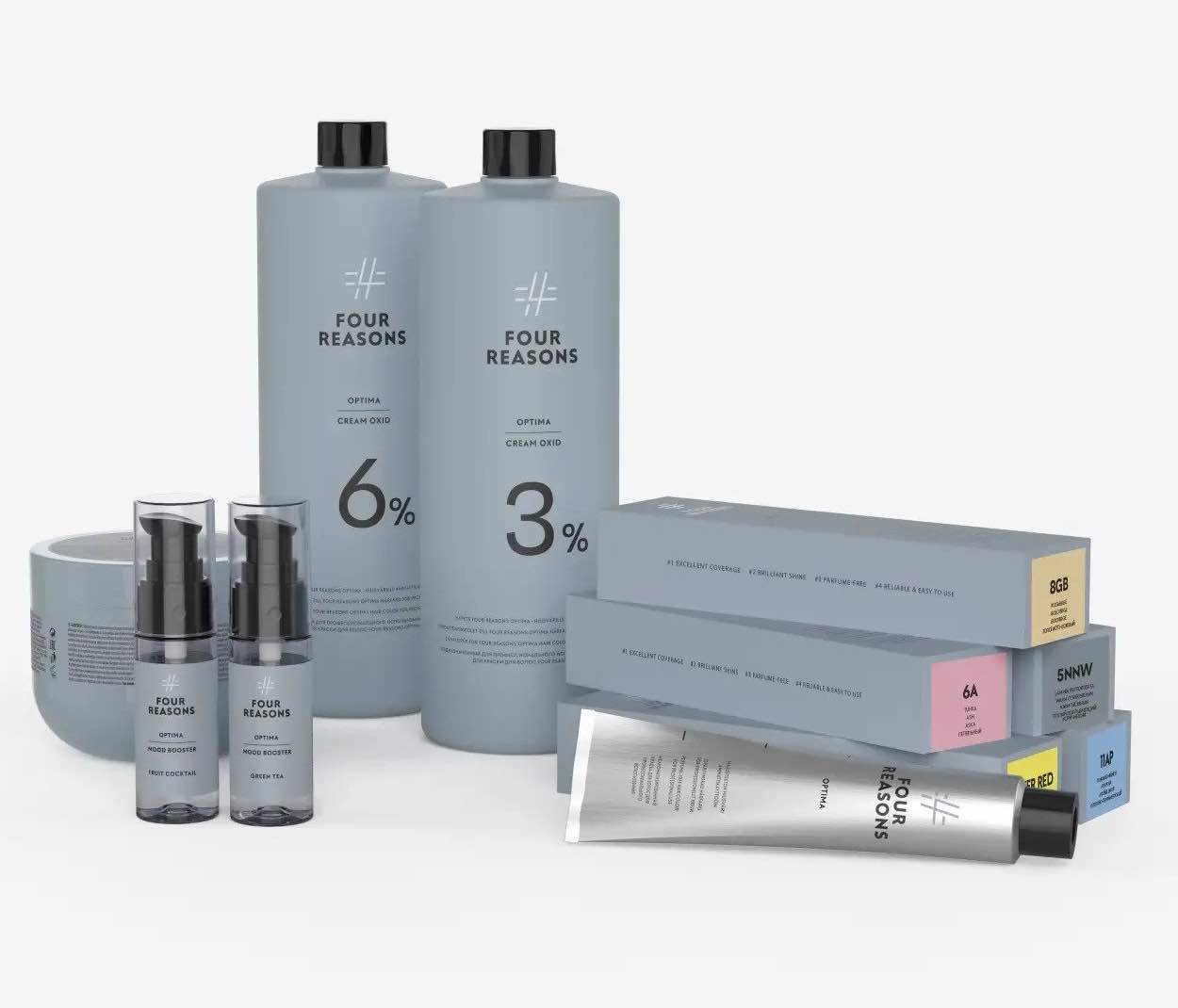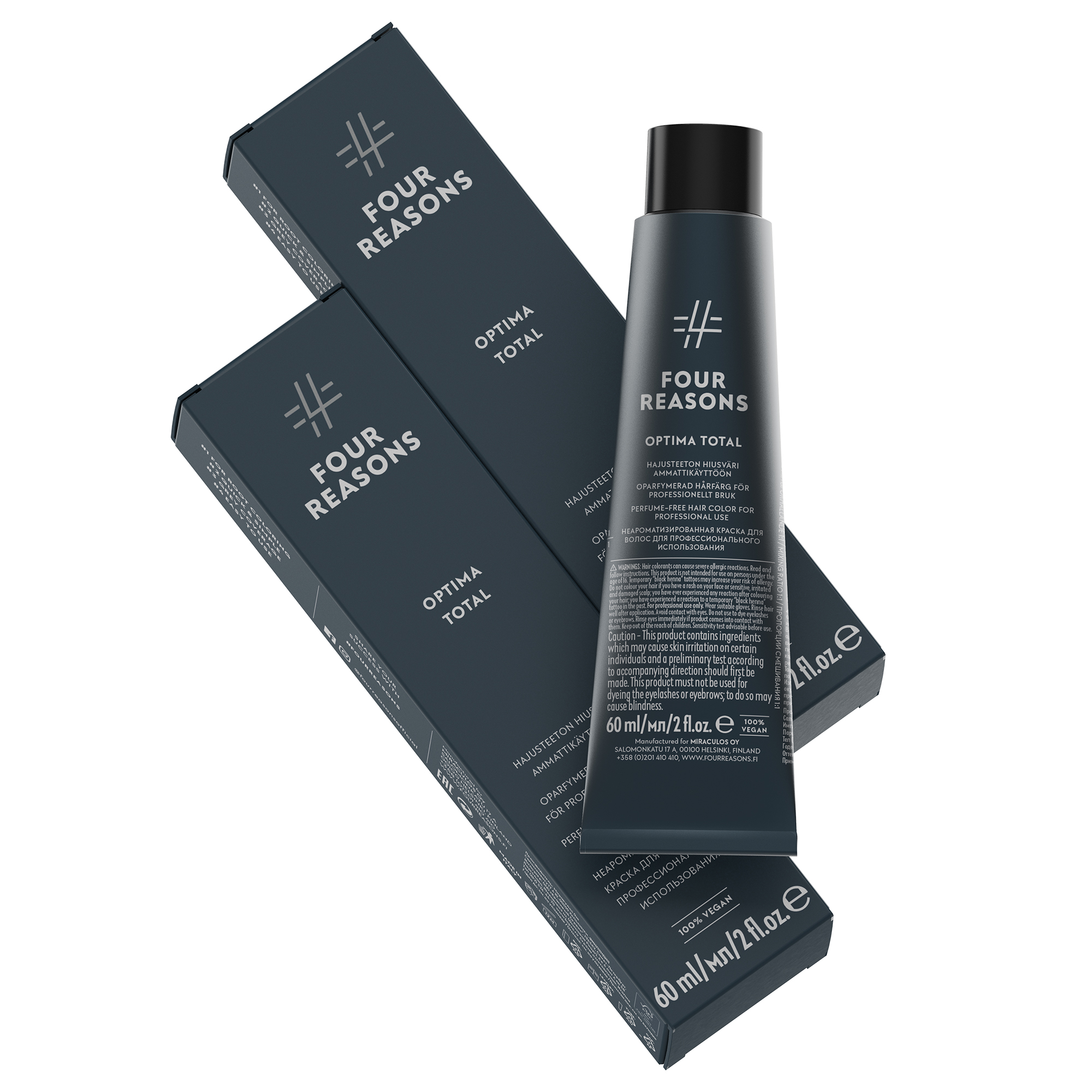 Optima Total – unfailing coverage
Optima Total, designed for roots touch-ups, is a color product with guaranteed 100% grey coverage. Coloring with the Optima Total range is exceptionally quick: the 10-minute processing time cuts the time needed for coloring and also provides the hair stylist with an opportunity to offer additional services with good profit.
Working with the Optima Total color range is as easy as ABC; the carefully selected compact color selection and the lovely, luscious texture that is easy to apply make coloring smooth and fun. The Optima Total color range includes fermented green coffee beans with antioxidant polyphenols and caffeine that stimulate microcirculation in the scalp and promote the wellbeing of the scalp.
The Optima Total color line is fragrance-free and vegan. Contains ammonia.
The Optima Total packaging size has been optimized for economic coloring: the 60-ml tube has enough for two root touch-ups.
#1 Reliable 100% grey coverage
#2 Quick to use – processing time only 10 minutes
#3 Beautiful and natural finish
#4 Easy to use
Optima Liquids – perfect tones for brightest blonds
Four Reasons Optima Liquids is a hair color for toning, neutralizing and clarifying bleached hair. The topical selection of pure blonde tones is designed for bleaching in which you want to add layers to the bleached base while maintaining the brightness of the color. In addition to the eight pastel shades, the Optima Liquids range includes CLEAR. If you prefer a softer result, use CLEAR to dilute the shade. When paired with the Optima Liquids Activator 3 % developer, the product's liquid consistency blends into a mass that is easy to lather and also fast and cost-effective to use at the shampoo station.
Four Reasons Optima Liquids contains a unique compound of hydrolyzed proteins that repairs and strengthens hair by preventing it from splitting and also protecting the hair from damage caused by chemical treatments. Other pampering ingredients include Ecocert certified Limnanthes alba seed oil that leaves your hair glossy and soft, and baobab oil that moisturizes the hair effectively due to its high content of vitamins A, D, E, and F. Four Reasons Optima Liquids is fragrance-free and vegan.
Processing time: 10–20 minutes, depending on the desired intensity.
#1 For glossing bleached hair
#2 Bright, pure tones
#3 Quick to apply and short processing time
#4 Fragrance-free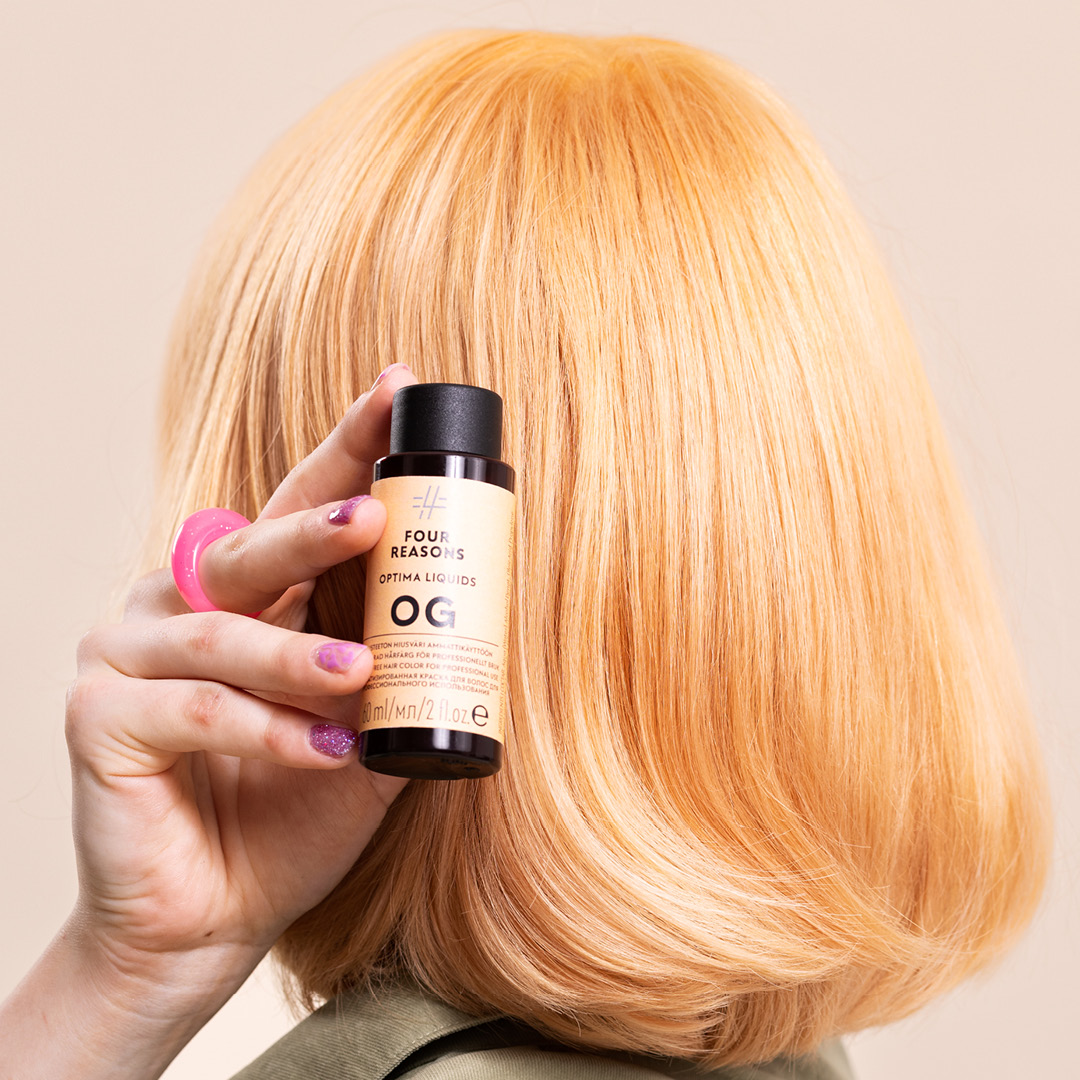 Watch Optima's training videos!
Four Reasons Optima is an easy to use professional hair color line for hairstylists. You can learn all about it by watching our training videos!